Your Guide to Moving to Washington, D.C.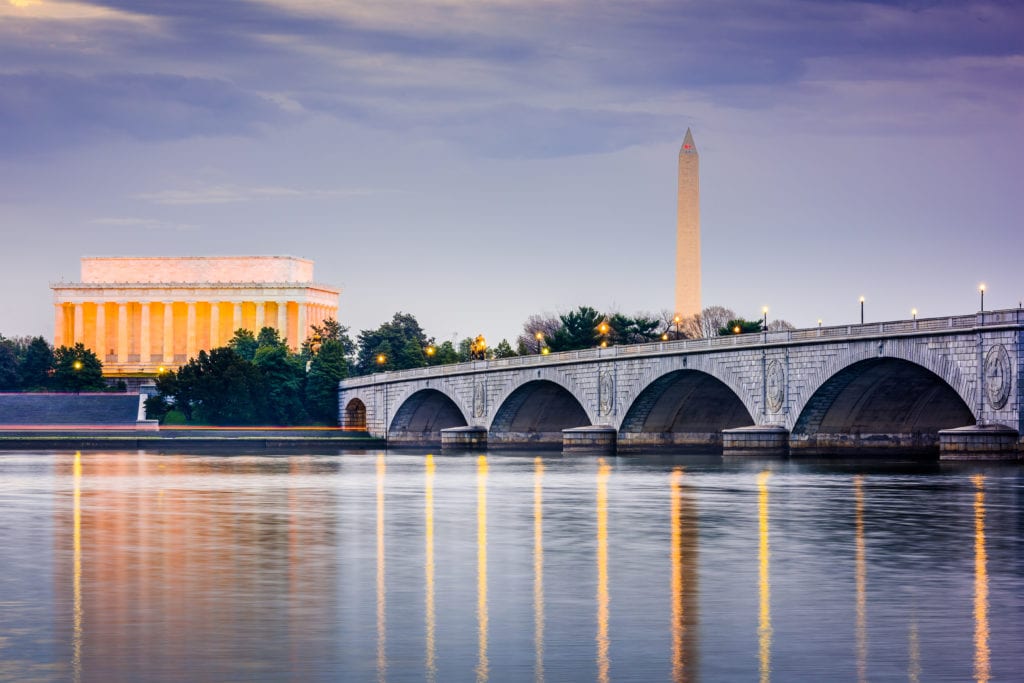 Washington, D.C. at a glance: 
D.C. is a thriving metropolis with a population of more than 700,000, with a lot of residents ages 20 to 39.
The cost of living in D.C. is 39% more than the national average, and housing costs have grown very high over the last decade.
The median income for individuals in the city is about $53,000
Job growth in D.C. is higher than the national average, and the city is home to many growing industries (including 16 Fortune 500 companies).
With over 70 museums to explore in the city, you won't be at a loss for arts and culture in D.C.
Moving to Washington, D.C.: The basics
What's the population of Washington, D.C.?
The capital of our nation hosts people and cultures from across the globe. And although the actual size of the city proper is rather small — about 68 square miles — there's a thriving population within its boundaries. As of 2019, D.C.'s population is 705,749, and growing as new people relocate to the area every day.
If you're a young, single professional moving to the city for work, you're not alone. 20 to 39-year-olds make up the largest age group in the city — about 40% of the total population. The median age is 34 years old. There's a pretty even gender split in the city, and 70% of the total population is single (so people looking for love in the area definitely have the numbers on their side).
What's the cost of living in Washington, D.C.?
People moving to D.C. from parts of the country could be surprised by the high cost of living in the area — starting with housing.
Census data indicates that the median price of a home is $568,400, and the median rent is $1,487/mo. And if you ask any D.C. local, that cost can make it hard to keep up. Thankfully, wages in the city are fairly high compared to most of the U.S. The median household income in D.C. is $82,604.
Aside from housing, new residents might find themselves paying more for other expenses like food and groceries. Payscale reports the average price of a loaf of bread is $3.66, a gallon of milk is $2.13, and a carton of eggs is $1.99.
It's smart to compare D.C. to other cities to give you an idea of the cost of living. Here's how D.C. stacks up against cities of a similar size, like Boston, bigger cities, like San Diego, and smaller U.S. cities, like Albuquerque.
| | | | | | |
| --- | --- | --- | --- | --- | --- |
| City Name | Population | Cost of Living (Compared to National Average) | Per Capita Income | Median Home Price | Median Rent |
| Washington, D.C. | 705,749 | 39% higher | $53,321 | $859,866 | $2,694 |
| Boston, MA | 694,583 | 48% higher | $42,010 | $717,943 | $2,249 |
| San Diego, CA | 1,425,976 | 44% higher | $39,066 | $817,185 | $2,560 |
| Albuquerque, NM | 560,218 | 5% lower | $29,210 | $332,426 | $1,041 |
*Data sourced from U.S. Census Bureau & Payscale
How's the job market in Washington, D.C.?
Jobseekers are in luck because D.C.'s bustling economy includes industries and businesses of all kinds. From 2018-2019, the greater metropolitan area added 52,300 jobs, representing a 1.6% increase over the 12 months.
Payscale estimates the average salary in D.C. is about $75,000 and the minimum wage is $14/hour.
Just like anywhere else, the District deals with its fair share of employment issues. The city's unemployment rate is 3.3%, the BLS reports, but job growth is slightly higher than the national average, which is encouraging for people in the market for new opportunities.
D.C. is home to 16 companies on the Fortune 500 list and a few more on the Fortune 1000 list. Fannie Mae and Freddie Mac are the top companies in terms of revenue, and in the home of the Federal Government, it should come as no surprise that the highest-ranking D.C. companies on Fortune's list are large national associations.
Lockheed Martin, General Dynamics, Capital One, and Marriott are all Fortune 500 employers in the city, so there's quite a range of industries in town to choose from.
What do I need to know about education in Washington, D.C.?
Parents moving to Washington, D.C. will have plenty of schooling choices for their children. There are over 200 public and charter options available in the metro area, and they are lottery-based for children ages three and up.
For working parents who need pre-Kindergarten care for their children, D.C. is one of the best places to be. The public school system offers free pre-K education for the city's residents. If it's time to pick a school in D.C., we recommend reading over this helpful primer on the local school system from the Office of the Student Advocate.
D.C. also offers 107 private schools, as of 2020. And the city is no slouch when it comes to colleges and universities. The District is home to 25 higher education institutions, some of them top-ranked in the nation.
What are the safest areas in D.C.?
According to Neighborhood Scout, the top three safest areas in D.C. are near the northwest portion of the city. Those safe areas are located around the cross streets of Connecticut Ave NW/Brandywine St NW (located north in the city), Spring Valley/American U (located northwest in the city), and Georgetown (located in the city's center).
Unfortunately, the D.C. area is only safer than 3% of all other cities in the country, which is definitely something to take into consideration when looking into potential neighborhoods. However, Neighborhood Scout notes, D.C. has a crime rate that is "noticeably lower than the average" when compared to other communities that have a similar-sized population.
For those interested in a deeper dive into the crime stats for the D.C. area, the Metropolitan Police Department releases detailed numbers that cover the city neighborhood by neighborhood. And the FBI releases in-depth data, as well.
How do I get around Washington, D.C.?
Living in D.C. comes with all of the transportation options — and traffic jams and commutes — that occur in a large city center. Like many metropolitan areas, workers in D.C. have to plan on spending a little more time traveling to work every day. According to WAMU, the average American spends 27 minutes traveling to their job, while D.C. residents spend an average of 43 minutes commuting for work.
That said, there are a plethora of ways to get around town. Lots of residents choose to walk, bike, take a taxi, or use a ride-sharing service, like Uber or Lyft. To get an understanding of prices, the Washington Business Journal reports that a taxi ride is about $5.14 to go one mile. UberX is $5 to $7 for one mile, and Lyft is about $6.55.
People in D.C. also have the option of taking the Metro, which serves 91 stations in Virginia, Maryland, and the District. The cost of the Metro varies by how many stops a person travels and whether the trip takes place during peak hours.
Biking is another popular option for getting around the city. In fact, D.C. ranks third in the percentage of people who bike to work in the U.S.
What's the weather like in Washington, D.C.?
If you're the type who likes to experience all seasons, D.C. is the right place for you. The hot season in D.C. lasts from May to September, with average temperatures above 79 degrees and lows around 72. The cold season (from November to March) can see lows around 29 degrees and highs in the low fifties.
You're likely to experience the District's winter wonderland at some point, as the city typically sees an average of 15.4 inches of snow every year.
What are Washington, D.C.'s fastest-growing neighborhoods?
If you're seriously considering making the move to D.C., then you'll need to know the fastest-growing neighborhoods in the city. Take a look at the top five neighborhoods with the highest growth rates between 2010 and 2018.
In Washington, D.C.:
Union Market 
With a population of over 10,500, the Union Market neighborhood is filled with many of D.C.'s finest restaurants, local shops, and more. The area also features several newly built apartment buildings in close proximity to all of the excitement.
Homes don't seem to go for sale very often in this area, but when they do, they're expensive. One rowhouse sold for over $1.3 million. For renters interested in the area, the average monthly rent ranges from about $2,000 to $4,000, which is higher than the city's average rent of $1,546/mo. (for a two-bedroom).
The Union Market area has excellent scores for walking and public transit opportunities.
H Street
The H Street neighborhood is the second-fastest-growing area in D.C. and is known as the "Near Northeast" neighborhood for its location within the city. The neighborhood is "a playground for foodies, performing arts fans, and music lovers," according to Washington.org, and is home to plenty of up-and-coming restaurants, music venues, and shops. H Street has a population of about 21,000.
Homes for sale in this neighborhood can range from about $400,000 to $600,000, or more. The average rent for H Street is $2,421/mo. for a one-bedroom and $3,218/mo. for a two-bedroom. This part of town also receives excellent scores for walking and public transit.
Brookland/Edgewood
Brookland and Edgewood offer access to several parks, schools, churches, and other community facilities, giving residents an excellent selection of opportunities and activities for the whole family.
Brookland, which is located in the northeast portion of the city, has a population of about 7,000 and is known as "Little Rome" for the several ornate Catholic Churches in the area. Edgewood has a population of about 10,700 and is located in the 5th Ward. Edgewood has a nice urban feel to it, while also being a perfect place for families and young professionals alike.
With an average rent of $1,453/mo. for a one-bedroom and $2,051/mo. for a two-bedroom, rentals in this neighborhood are a little more reasonable compared to the rest of the city. Homes for sale in Brookland and Edgewood can range from $200,000 to well over $1 million.
Mount Vernon Square
Located in downtown D.C., Mount Vernon Square is a mixture of business and pleasure, with varied and popular restaurant options in close proximity to the bustling Walter E. Washington Convention Center. The neighborhood is also one of the most historic in the city.
Mount Vernon Square has a population of about 15,000 and gives residents access to several restaurants, bars, coffee shops, and parks. Renters in this neighborhood can expect to pay around $2,000/mo. to $4,000/mo. in rent, and homes in the area go for around $400,000 to $800,000.
Southwest
Another historic and fast-growing neighborhood, Southwest provides access to D.C.'s great monuments and memorials. The area also features waterfront dining and plenty of activities (including outdoor movies) and is home to the century-old seafood market. It has a population of around 12,500.
Rental property in the area can range all the way from $2,000 to nearly $6,000/mo. Homes in this neighborhood range from $200,000 to more than $1 million.
In the Washington, D.C. metro area:
Stone Ridge, VA 
Stone Ridge has a population of almost 13,000 and is one of the best places to live in Virginia, according to Niche.com. This suburb of the D.C. metro area has a lot to offer, including restaurants, parks, and places to explore arts and history. The area is located about 48 minutes west of the District's city center.
People renting in this area can expect to pay about $1,500/mo. to $4,000/mo. for an apartment, and homes in Stone Ridge go for about $350,000 to $800,000.
Roughly 11% of people in Stone Ridge commute by carpool, while about 7% of the local residents use public transportation, such as the Metro. For people working in the city, the commute time to Washington D.C. is about 45 minutes.
North Potomac, MD
North Potomac has a population of just over 24,000. The Maryland suburb has its fair share of options for shopping, restaurants, nightlife, coffee shops, and parks. It's located about 43 minutes north of D.C., and most people in this suburb drive since the only way to get around without a car is by using the subway.
The apartments in North Potomac rent for around $1,500/mo. to $4,000/mo., and homes in the area are currently selling at about $400,000 to $800,000. If working in the city is a concern, the commute time to Washington, D.C. is around 45 minutes.
Arlington, VA
Arlington has a population of about 237,500 and offers a lot to do and see, including great restaurants, parks, and playgrounds. It's located west of the city center and has convenient transport links for commuting. Many people moving into Arlington can get away without owning a car and using public transportation.
Renters in Arlington will be able to find affordable apartments at an average of $1,657/mo. for a one-bedroom and $1,973/mo. for a two-bedroom. Homes in the area sell anywhere from $350,000 to over $1 million.
Arlington is about 5 miles away from Washington, D.C., so the commute should be around 20-30 minutes, depending on traffic.
Living in Washington, D.C.: The fun part
For the sports fan
Sports lovers have an array of options when it comes to celebrating on game day. The city has a number of major league teams for fans to cheer for, including the Washington Redskins (football), the Washington Nationals (baseball), the Washington Wizards (basketball), the Washington Mystics (WNBA), the Washington Capitals (hockey), D.C. United (soccer), and the Washington Kastles (tennis).
If you're more of a college sports fan, don't worry — you won't be left out. You can always root for the University of Maryland – College Park, Catholic University, American University, George Mason University, and George Washington University.
For the culture-seeker
Living in D.C. is the perfect place to satisfy your need for art and culture! You can spend a whole weekend (or multiple!) losing yourself in some of the country's best art, history, and cultural museums, from the National Portrait Gallery to the United States Holocaust Memorial Museum. As an added bonus, the 11 Smithsonian museums in D.C. all offer free admission. Don't know where to start? Check out this sample itinerary that will hit some of the city's highlights and hidden gems.
Families will have many kid-friendly options for a fun night or day out. Take the kiddos to the National Museum of Natural History for a hands-on science experiment or to the International Spy Museum for a night of fun and intrigue. Have animal lovers in the family? Make sure to check out the Smithsonian National Zoo!
For the foodie
The Capitol is a foodie's dream come true. As a melting pot of delectable cuisine from all corners of the world, you'll truly get a taste of amazing dishes that are sure to excite your taste buds. From Afro-Caribbean and Filipino spots to Southeast Asian and Middle Eastern restaurants, D.C. has one of the most diverse and vibrant restaurant scenes in the country.
Want to sample some of the Capitol's best cuisine? Try a D.C. metro food tour for your next taste buds adventure!
For the traveler
For anyone looking to jet set, D.C. residents have access to three major airports in the area. Dulles International Airport offers direct flights to places like Paris and Tokyo, making achieving your next bucket list trip a breeze. The District also features options for cruise lines that sail to destinations like New York City.
But if you're more of a weekend explorer, you don't need to travel far to find fun short getaways. Travelers can check out nearby cultural centers like Baltimore and Charlottesville, which are easily accessible destinations from the city.
For the outdoors explorer
Moving to D.C. allows you to enjoy the great outdoors with numerous activities and adventures. Home to numerous national parks, D.C ensures nature lovers have a diverse range of activities to choose from, like running trails, paddle boats, and access to the National Arboretum and Kenilworth Aquatic Gardens.
You'll also have a range of outdoor events to participate in, including the D.C. Bike Ride and several marathons and races.
What you probably didn't know about D.C.:
The District's long and storied past holds many interesting stories. Digging beneath the surface to discover a few of the city's secrets will help newcomers feel like long-time residents in no time at all.
The bottom line
Moving to the nation's capital city is an exciting journey that will bring its fair share of challenges and rewards. And although this guide is a good introduction to what a new resident can expect in the city, it only scratches the surface of the wide-ranging culture and opportunity that exists in Washington, D.C.
From top schools and world-class universities to national monuments and Fortune 500 employers, the District is a place that truly has something for everyone who decides to call it home. The DCist and Washington.org offer further resources to get people who recently moved to the area up to speed.
Julian Dossett and Shanea Patterson contributed to this piece.
---
Everything for your move, all in one place
Curate your personalized moving checklist, set up TV & Internet, and more with a free MYMOVE account.
Save on your move and tackle upcoming to-dos with your free MYMOVE account.