Your Guide to Moving to Los Angeles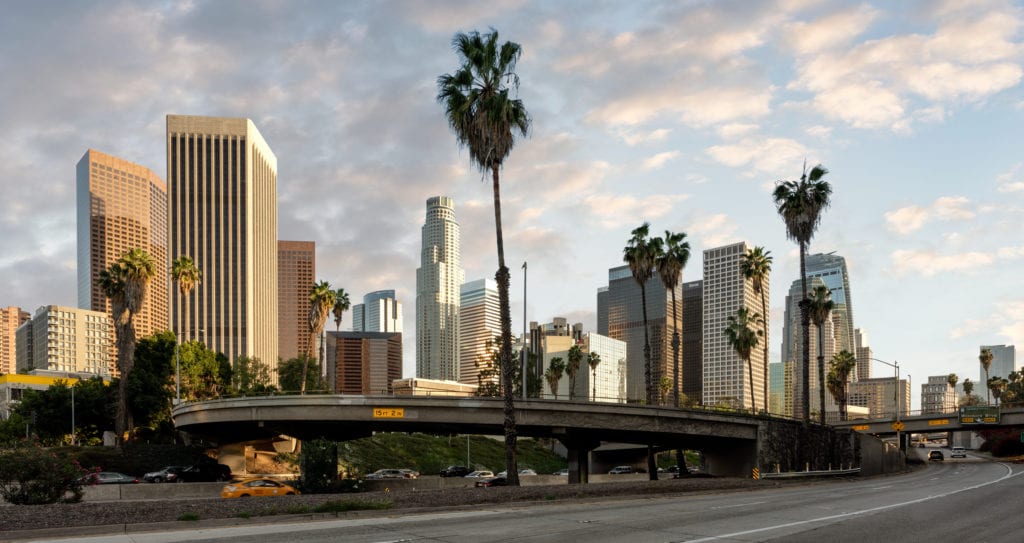 Los Angeles, California, at a glance:
The cost of living in Los Angeles is 43% above the national average. Housing prices account for much of that — 127% above the national average.
The average salary for an individual working in the city is around $74,000.
Los Angeles' creative economy employs 429,400 people, making it the world's largest creative hub.
Other than entertainment, some of the city's top industries include construction, education, and health services.
L.A. is very much a food town. Fill your belly with everything from tacos and ramen to fine dining from more than 25 Michelin-recognized restaurants.
Outdoor adventurers and weekend vacationers flock to Los Angeles for its numerous scenic canyon hikes and 75 miles of pristine coastline.
Moving to Los Angeles: The basics
What's the population of Los Angeles?
Los Angeles has a total population of 3,990,456 as of the last census count in 2018. The population is relatively youthful, with a median age of 36. About 58% are single, and there is a fairly even split between men and women.
If you're moving to Los Angeles, you're in good company. L.A. is the second-most populous city in the country, with 3,990,456 people. More than 34% of the population is foreign-born, adding to L.A.'s diverse cultural community.
What's the cost of living in Los Angeles?
Los Angeles is one of the more expensive cities in the U.S., with a cost of living that's 43% above the national average. Much of that comes down to housing. Payscale says housing costs in the city rise 127% above the national average. The Census reports that the median home value is $682,400, and median rent comes to $2,362/mo.
If you're stocking up on groceries in the city, expect to pay 12% more than the national average. A loaf of bread will run you around $3.73, a gallon of milk is about $2.17, and a dozen eggs go for about $2.03. When you eat out, expect to pay an average of $4.75 for a burger (gourmet burgers, which abound in L.A., can be at least three times that).
The median household income in Los Angeles is $62,474, with per capita income at $35,089. That's comparable to the national numbers — $60,293 (household) and $32,621 (per capita).
The cost of living in Los Angeles is more expensive than the next most populous cities of Chicago, IL, and Houston, TX. However, Los Angeles is significantly cheaper than New York, NY, the country's most populous city.
Take a look at how Los Angeles compares:
| | | | | | |
| --- | --- | --- | --- | --- | --- |
| City Name | Population | Cost of Living (Compared to National Average) | Per Capita Income | Median Home Value | Median Rent |
| Los Angeles, CA | 3,990,456 | +43% | $35,089 | $682,400 | $1,376/mo. |
| New York, NY | 8,398,748 | +129% | $39,589 | $645,100 | $1,396/mo. |
| Chicago, IL | 2,705,988 | +23% | $37,160 | $271,600 | $1,077/mo. |
| Houston, TX | 2,326,090 | -2% | $31,162 | $179,100 | $990/mo. |
*Data sourced from Census Reporter and Payscale.
How's the Los Angeles job market?
While Los Angeles has a slightly higher unemployment rate of 4.1% compared to the national average (3.6%), the city continues to attract businesses that generate new job opportunities. An economic summary from the United States Bureau of Labor Statistics says the city's overall job growth rate sits at 1.5%, just above the national average of 1.4%.
Los Angeles is the world's largest creative hub. Its creative economy employs nearly 429,400 people. A 2019 report from the U.S. Bureau of Labor Statistics also shows that jobs in the construction, education, health services, leisure and hospitality, and professional and business services are also on the rise
Job seekers can also note that the greater L.A. metro area is home to 28 Fortune 500 companies.
What do I need to know about education in Los Angeles?
Los Angeles Unified School District (LAUSD) is the second-largest public school system in the nation, teaching more than 600,000 students from kindergarten to high school. LAUSD also offers more than 2,400 comprehensive arts programs district-wide for grades K-12.
With most schools in LAUSD, your address determines which school your child will attend. However, LAUSD does offer application and lottery opportunities for magnets, charters, and other programs. But local parents and teachers know that navigating LAUSD outside of your local school can be a whole system unto itself.
Out of 742 school districts in California, Niche ranks LAUSD 26th for athletics and 472nd for diversity. LAUSD magnet school Los Angeles Center for Enriched Studies ranks 28th in Newsweek's list of Top 100 Best High Schools in the U.S.
Outside of the public school system, there are 250 private schools to choose from. It's also a college town, with more than 230 colleges and universities.
What are the safest areas in Los Angeles?
The top three safest areas in Los Angeles, according to NeighborhoodScout, are spread throughout the city:
Palisades Drive and Avenue De Santa Ynez, near Pacific Palisades on the west side.
Victory Boulevard and Balboa Boulevard, near Lake Balboa in the San Fernando Valley.
Topanga Canyon Boulevard and South Topanga Canyon Boulevard, nestled in the winding roads that connect the inland valley to the Pacific Coast Highway.
NeighborhoodScout reports that Los Angeles is safer than 12% of U.S. cities. The crime rate in Los Angeles is higher than the national average across all communities in the U.S. but is about average when compared to communities of a similar size. The violent crime rate, however, is one of the highest in the nation.
These numbers only give you a brief look at safety in the city. To get a true look at crime in the area, check out this crime map on the Los Angeles Police Department website or statistics from the FBI.
How do I get around Los Angeles?
The city of Los Angeles is spread out over 469 square miles. Despite public transportation options, the majority of Angelenos use their cars to get to work. The average commute time in Los Angeles is just over 30 minutes; however, nearly 4% of residents have drive times of more than 90 minutes.
An alternative to sitting in traffic in Los Angeles is to use public transportation. The Los Angeles County Metropolitan Transportation Authority's (L.A. Metro) offers a network of busses, rail, and bike share accessible throughout the city.
Ridesharing services such as Uber and Lyft are widely available in the city. There are also taxi services throughout the city, with average cab fare starting from $2.85, plus $1.70 for each half mile. According to Uber, an UberX fare has a $6.50 minimum with a per-mile cost of about $0.80 and a per-minute charge of $0.28, along with a market place fee of $3.00. But look out for price surges — they can skyrocket during high-traffic times, like Friday evenings. Recently, Los Angeles international airport restricted pickups for rideshares and taxis to a satellite parking lot.
If you want a fun way to get around town, you can also rent bicycles and scooters throughout the city.
What's the weather like in Los Angeles?
Living in L.A. is easy day-to-day, with a mild climate full of blue skies and endless sun. In winter and spring, average highs fall between 68 and 72 degrees. Marine layers roll across beachside neighborhoods typically in May and June (locally known as "June Gloom"), but normally burn off in the afternoon.
The best beach weather peaks during the summer when average highs rise to 84 degrees near the beaches (but those temperatures can be much higher inland). Overall, the Southland gets 14.93 inches of rain each year, most often in the fall and winter months.
Los Angeles doesn't have extreme weather but does get Santa Ana winds at times throughout the year, which greatly increases fire risk in this dry climate. As winds travel west from the deserts through mountain passes, they gain speed. Gusts can reach 74 mph or more and cause power outages, property damage, and risk of wildfire in the region.
What are Los Angeles's fastest-growing neighborhoods?
In Los Angeles
Mount Washington
Ask people who live in the northeastern neighborhood of Mount Washington, and they'll tell you it's one of the best places to live in L.A. With a population of 17,973 people, it's perched on a hillside, delivering sweeping views of the surrounding hills and streets. Nestled between the 5 and 110 freeways, it has easy access to downtown L.A.
Redfin ranked it as one of its "hottest neighborhoods of 2019" because of its fixer-upper homes that are popular for developers. The median home value in Mount Washington is $849,292, according to Zillow. Depending on home type, rentals can go for $1,500/mo. (for a one-bedroom) to $5,500/mo. (for a four-bedroom home).
West Adams
Los Angeles's West Adams neighborhood is conveniently located to both downtown L.A. and the Westside. It attracts its 24,052 residents with its palm tree-lined streets and bungalow homes with manicured lawns. The median home value in the area is $787,377, Zillow reports. Rentals in the area can range from $1,500/mo. to $4,700/mo., depending on the home type. According to Niche, West Adams ranks high for both ethnic and economic diversity.
Jefferson Park
The up-and-coming neighborhood of Jefferson Park is gaining momentum with new residents. Jefferson Park has a population of 28,316 and sits on the southwest side of Los Angeles. It's conveniently located to Downtown L.A. (DTLA), with easy access into the city or the Westside via the 10 freeway that runs along the northern edge of the community. The median home value is $758,929, and the average home price in Jefferson Park has doubled in the last decade, climbing 184%. The average rent goes for $1,311/mo.
Exposition Park
The bustling Exposition Park neighborhood is located just south of DTLA and the University of Southern California. It's home to attractions like the newly opened Banc of California Stadium, L.A. Memorial Coliseum, and the Natural History Museum of Los Angeles County. Exposition Park's 40,726 residents have easy access to the city via the 110 and 10 freeways and the light rail, with LA Metro's Expo Line. According to Zillow listings, homes prices in the area range from around $450,000 (for a two-bedroom, two-bathroom) to well over $1.2 million (for a four-bedroom). Rent prices in the area range from $1,400/mo. to $3,500/mo. based on the home type.
Elysian Valley
This neighborhood — known to locals as Frogtown — is tucked behind Dodger Stadium, just north of downtown Los Angeles. Elysian Valley's 9,876 residents can easily drive into DTLA via the 5 and 110 freeways that intersect the neighborhood. It also boasts the L.A. River bike trail on its eastern edge. Elysian Valley also features popular restaurants, bars, and the Frogtown Artwalk. The median home value is $744,090, and rent in the area ranges from $2,500/mo. to $4,000/mo.
In the Los Angeles metro area:
San Rafael Hills
North of downtown Los Angeles, San Rafael Hills was rated fifth on Redfin's "hottest neighborhoods of 2019." This area has a population of 3,345, with Zillow listings for homes ranging from $985,00 to well over $2.6 million. The average rent is $2,660/mo. Centrally located to Los Angeles and Pasadena, it's also close to the 134 freeway, which connects you to both entertainment and residential hubs like Burbank and the San Fernando Valley. Homes are set in forested areas, some on hills with views of Old Town Pasadena.
South Pasadena
This neighborhood northeast of DTLA offers a small-town community vibe to its 25,974 residents. It's a great family spot, with highly rated schools at all age levels. The median home value in South Pasadena is $1.1 million, and the average rent is $2,200/mo. The area is divided by the 110 freeway, enjoying easy access to downtown. Another reason it ranked on Redfin's "hottest neighborhoods of 2019" is its proximity to Mission Street: a charming epicenter of shopping, dining, and seasonal events.
Living in Los Angeles: The fun part
For the sports fan
Los Angeles has been ramping up is game over the last few years where major league sports are concerned. The city is home to top basketball teams: the Los Angeles Lakers, the Los Angeles Clippers, and the Los Angeles Sparks. Baseball's Los Angeles Dodgers have made the city their home since moving from Brooklyn in 1958.
The 70,000-seat SoFi Stadium is slated to open in summer 2020 and will be the home of the Rams and Chargers NFL teams. While most fans know the Staples Center as the main DTLA venue for concerts and basketball games, there's also an ice rink under the insulated tiles for L.A. Kings hockey. L.A. Galaxy and Los Angeles FC are the city's professional soccer teams.
For the culture-seeker
Los Angeles is a cultural hub, home to world-class museums like the Getty Museum and the Getty Villa, Los Angeles County Museum of Art, and The Broad contemporary art museum. Other must-see museums include the California Science Center, the Natural History Museum of Los Angeles County, and the Peterson Automotive Museum.
The Los Angeles Philharmonic fills the Frank Gehry-designed Walt Disney Concert Hall for most of the year before it takes the stage outdoors at the Hollywood Bowl in the summer months. Theater lovers can find performances around the city, especially at the Geffen Playhouse, Ahmanson Theatre, Mark Taper Forum, and Pantages Theatre.
The Dorothy Chandler Pavilion is home to the Los Angeles Opera and Los Angeles Ballet. You can find fun for the whole family at the Descano Gardens, the Kidspace Children's Museum, and El Capitan Theatre!
For the foodie
From fine dining to taco trucks, Los Angeles has an incredible culture of dining opportunities spanning 465 square miles. Its melting pot of immigrant populations makes it a top destination to savor authentic Latin American, Thai, Korean, Japanese, Chinese, and Italian food.
Must-eats include authentic tacos from local trucks and stands, bowls of artisanal ramen, and Korean BBQ. The prestigious Michelin Guide has awarded stars to more than 25 Los Angeles restaurants.
For the traveler
Los Angeles tops the list of cities for jet-setters. Los Angeles International Airport (dubbed LAX) flies to more than 109 non-stop domestic destinations and 93 international destinations. Other convenient airports, depending on where you are in the city, include Burbank Bob Hope Airport and Long Beach Airport.
The Los Angeles coast stretches 75 miles from Malibu to Long Beach, with the Santa Monica Mountains overlooking much of that. This makes escaping for the weekend a breeze! Cold-weather and nature-seekers can flee to Big Bear Lake or Mammoth Mountain, which are easy drives from the city.
For the outdoor explorer
With sunny days and temperate weather year-round, getting out and exploring Los Angeles is a must. The city is home to hundreds of parks and recreation venues. Griffith Park — the largest urban park in the country — houses 50 miles of hiking trails, plus the iconic Griffith Observatory, the Los Angeles Zoo, and The Autry Museum for the American West.
Runyon Canyon is one of the city's most popular hikes with a view (it also has the benefits of great dog- and celebrity-watching), and Grand Park downtown hosts cultural events throughout the year, including the CicLAvia community bike fest.
What you probably didn't know about Los Angeles…
Despite always being in the public eye, Los Angeles may surprise you with these interesting facts:
People from more than 140 countries speaking 224 languages live in L.A.
Los Angeles International airport serves 87.5 million passengers annually.
The city's roots trace back to 1781 when 44 people from Mexico settled in what is now considered Downtown Los Angeles.
Los Angeles produced 25% of the world's oil in 1923 and still sits on the third-largest oil field in the country.
There are at least 11 miles of hidden tunnels under the city.
The iconic Hollywood sign originally read "Hollywoodland" before it was changed in 1949.
Angeles Flight Railway downtown is 118 years old and ranks as the world's shortest railway.
L.A. is set to host the Olympics in 2028.
If you're thinking of moving to sunny L.A. and want to wrap your head around this massive, dynamic city, this guide is a great place to start. But to navigate like a native, you have to tap into local resources, too.
Tourism sites like discoverlosangleles.com and SOCALPULSE are good for current events and culture around the city. Eater L.A. is a great place to start diving into the local dining scene. Local news affiliates like KTLA, SCPR, LAist, KCRW, and KPCC have the beat on what's happening at the neighborhood level, and The Los Angeles Times covers local, regional, and national news.
Use all of the insights above and beyond to help you decide if moving to L.A. is your next step.
---
Everything for your move, all in one place
Curate your personalized moving checklist, set up TV & Internet, and more with a free MYMOVE account.
Save on your move and tackle upcoming to-dos with your free MYMOVE account.