How To Clean Carpet Like a Pro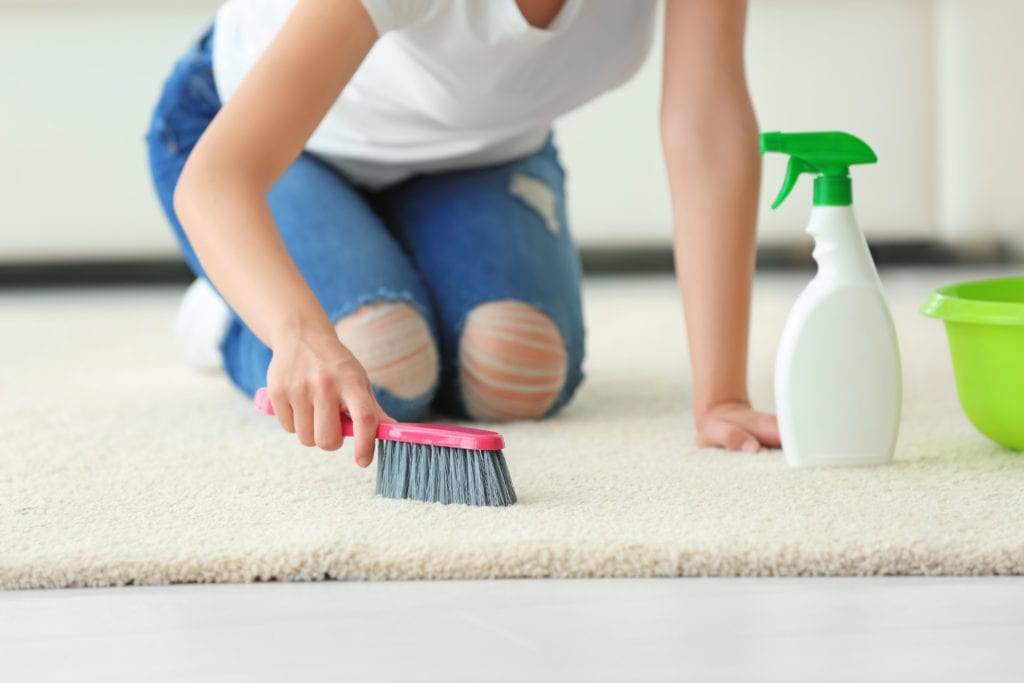 Are you eager for a fresh and clean carpet but don't know where to start? Even if you have carpeting with a stain guard, it still requires a good deep cleaning every few months. Add in a carpet that's lighter in color, is located in high-traffic areas, or is in a home with pets or kids, and you may need to clean your carpet more often.
If you've wondered how to clean carpet or how to shampoo carpet, you're in the right place. You can get clean carpeting without paying for the pros. But a few initial tips: Check with the manufacturer before cleaning your carpet, and test a small area for colorfastness before diving in.
How to clean your carpet in 8 simple steps
Yes, it's possible to make your carpet look and feel new again. You can even erase all evidence of kids, pets, and random spills with a little DIY know-how. You'll need to plan ahead if you're going to shampoo your carpet in order to allow for drying time. From vacuuming to shampooing, follow these steps to fall back in love with your carpeting:
Step 1: Remove every item from the carpet. This includes everything from toys to baskets to furniture.
Step 2: Set your vacuum to the right height. Begin at the highest setting, with the vacuum on, keep lowering the height setting until you can feel your vacuum give a slight pull forward. Refer to your vacuum's manual to adjust the height to match the type of flooring.
Step 3: Vacuum the carpet slowly to better remove the ground-in dirt and debris. Make two slow passes over high-traffic areas from different directions to dislodge anything trapped in the carpet fibers.
Step 4: Fill the carpet shampooer according to the manufacturer's instructions using warm water and the appropriate cleaner.
Step 5: Vacuum your carpeting using the carpet shampooer. Take care not to over-saturate the carpet to avoid mildew.
Step 6: Make two to three drying passes over the wet shampooed carpet to help your carpet dry faster.
Step 7: Use fans and open windows for quick drying. Wait at least six hours before walking on the carpet or moving furniture back into the room.
Step 8: Maintain your clean carpet with frequent vacuuming and quarterly deep cleaning. You can also throw in a yearly professional clean to pick up any stubborn stains.
Products and tools you'll need to clean your carpet
Don't want to use chemicals? Here's how to get a clean carpet naturally
Reach for all-natural products to get the clean carpet you crave without worrying about chemicals. All you need to do is to turn to your pantry for common, everyday items capable of pulling double-duty.
For a carpet mess, like a food spill, pick up any solid debris left on the floor. Then, combine equal amounts of distilled white vinegar and hot water with a squirt of dish soap in a spray bottle. Slightly dampen the mess without over-saturating the spot, and blot away the excess to erase every sign of it. Keep repeating with clean cloths until one of them comes away clean.
Refresh your carpet fast and leave it smelling like a rose (rather than your wet dog). Combine half a cup of baking soda with ten drops of your favorite essential oil. Sprinkle over your carpet, leave on for at least ten minutes, and then slowly vacuum over the area for a speedy refresh.
How to keep a clean carpet
Professionals know how to shampoo carpet, so schedule a yearly cleaning. Add in a handful of DIY carpet shampoos throughout the rest of the year, and you can easily extend the life of your carpeting.
When a DIY shampoo or pro cleaning isn't possible, simple things like removing your shoes at the door or getting a doormat can help. Go for a protective product like Resilia — a clear vinyl plastic floor runner for deep pile carpet — to keep carpet looking better for longer, without any extra work on your part.
The bottom line
Carpet fibers trap grit and dust. Drag out the vacuum multiple times a week to keep dirt from getting pushed down deep. Consider a professional carpet cleaning service at least once a year, and fill in the gaps between pro cleanings with a more budget-friendly home carpet shampoo rental.
Frequently Asked Questions
What is the best homemade carpet cleaning solution?

Combine equal parts of distilled white vinegar and hot water in a spray bottle for a DIY carpet cleaner. Test a small area of your carpeting before use.
How do I clean my carpet myself?
You can spring for a carpet shampoo rental to deep clean your carpeting. Rentals are typically available for up to 48 hours and are found at most grocery or hardware stores.
How can I extend the life of my carpet?
Vacuum your carpet daily. Remove your shoes at the door and treat any stains as soon as they happen.
What shouldn't I do when I treat a carpet stain?
Don't let a mess sit there. Blot at the carpet with a clean cloth and don't add more than the manufacturer's recommended amount of cleaner to avoid discoloration.