7 Things to do in Winter before Listing your Home in Spring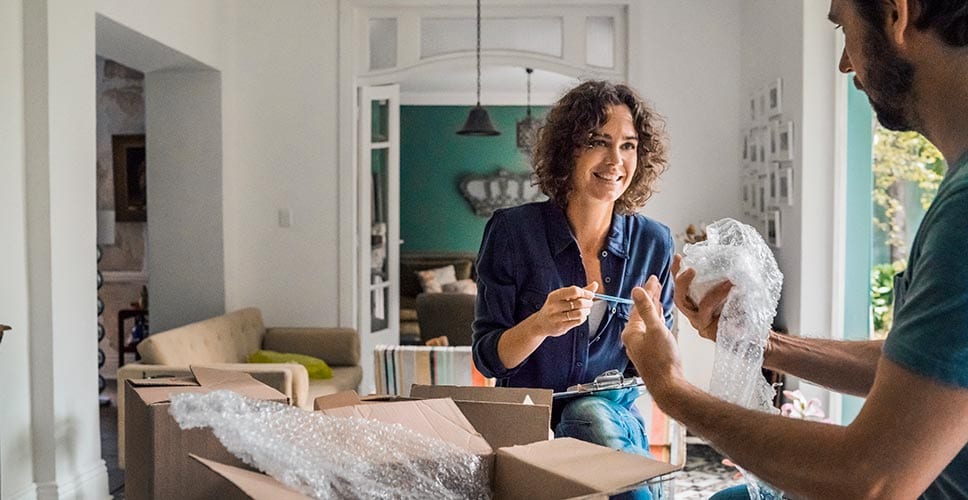 We're not talking about the last-minute things you scurry around to do before a showing, like straightening up. These are the indoor tasks that take a little more time and effort, but are essential to take care of during the winter before listing your home in spring.
1. Take Inventory
You've got some time on your hands before listing, so now is the perfect time to prep. Start by going room-by-room and taking inventory of all the items in your house. "Remove any non-essential items from flat surfaces such as kitchen counters, coffee tables and fireplace mantels," says Kelly Parks, M.S. Broker/Owner of Paris Gibson Realty in Great Falls, Montana. Flat surfaces include walls, too. Remove your personal photos, so potential buyers can imagine their own family setting down roots. Finally, take a peek inside your closets, attic, basement and even the garage. Donate or sell the items you don't use. (Try these apps sell your surplus goods). After taking inventory and getting rid of what you don't need, tidy up and organize your remaining things to show off the most space.
2. Downsize Even Further
"The days of merely de-cluttering are over; you must downsize your entire interior. Less is more," says Fiona Dogan, Realtor at Julia B. Fee Sotheby's Realty, in Rye, New York. Consider the furniture in each room. You might treasure your grandma's dining room table with seating for 8, but when it's crammed into an otherwise adequate space, it gives the buyer a lesser impression of the actual square footage. Scale down and store the furniture you want to keep elsewhere. If you don't plan on packing it, consider donating it to these charities—they'll pick it up your things for free!
3. Freshen Up, Already!
You know those nagging little cosmetic tasks we put off until push comes to shove? Well, it's time to get cracking on them. Park's top picks are re-caulking your shower/tub areas and re-grouting tile. They get dirty and nasty-looking, and make an otherwise attractive bathroom or kitchen look tired and old. While you're in the bathroom, replace outdated shower curtains. Freshen up doors and baseboards by removing scuff marks, and touch up with paint where needed.
4. Get Rid of Funky Pet Odors
We realize your furbaby may have another accident before (or during!) the time your house is listed, but those can be cleaned up quickly. Lingering pet odors are one of the biggest turnoffs for buyers, so now is an excellent time to rid your house of them.
5. Fix it and Forget It
As spring approaches, you don't want to waste your weekends being a DIY warrior. "If your doorknob never quite functioned correctly and you have to 'pull up and to the left' just to get the key to turn, or if you have a leaky faucet, this would be a great time to fix it," says Justin M. Riordan, founder of Spade and Archer Design Agency, professional home staging in Portland Oregon. Do a thorough walk-through of your home, and start tackling the minor repairs now.
6. 50 Shades of White
Painting is a time-consuming task, but tackling it now will pay off in the spring. A freshly painted interior is attractive to home buyers, especially when the walls are painted in neutrals as opposed to the colors of the rainbow— reds, greens and blues, for example, which can turn off buyers. "Color can make it difficult for a new homeowner to move in their furniture without painting the walls first," says Riordan. But he cautions against using gray. "We know everyone loves grey, but that trend ended about 20 minutes ago." Stick with whites and creams.
7. Get a Pre-Inspection
You're probably familiar with a traditional home inspection that is ordered by a buyer who makes an offer on the house. The seller typically waits on pins and needles, hoping there are no major repairs that scare off the buyer or are costly to fix (As this article shows, some inspection failures can really set you back). A pre-inspection, on the hand, is ordered by the seller before the listing."It is a great idea to have a pre-inspection completed by a reputable home inspector, because you can complete any items that could be distracting concerns to buyers," says Parks. From there, all that's left to negotiate is the price and terms instead of a list of inspection issues that create haggling and counteroffers.
---