9 Things You Shouldn't Overlook When Househunting Online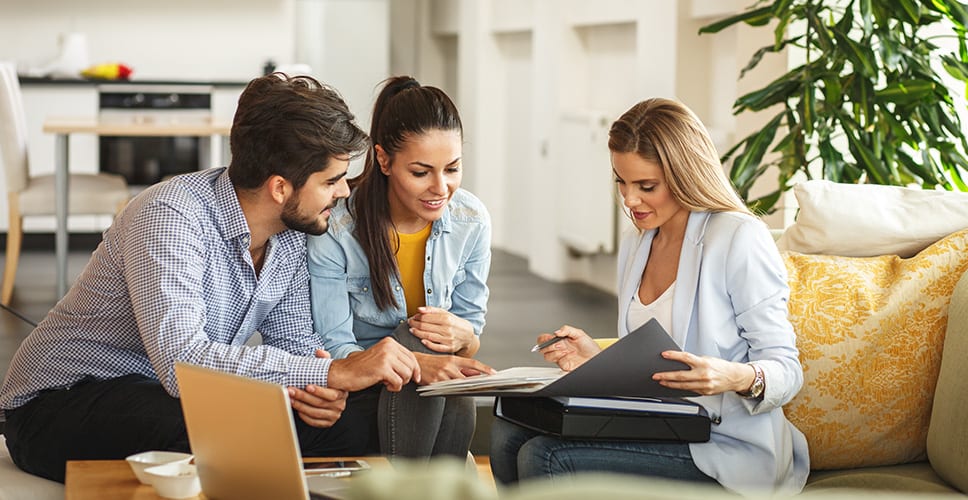 Who doesn't love browsing for a dream home using an app? In just a few taps, you're imagining your life via the professional photos of beautifully staged rooms. However, you could be glancing over details that are potential dealbreakers. We asked a few Realtors for a list of things a buyer should never overlook when scrolling through real estate listings.
Why are there more exterior pics than interior pics?
Are there more pictures of the house exterior and neighborhood highlights, like quaint cafes and really cool dog parks? It could be a sign that the home's interior isn't so hot.
"Often, this means the interior needs major cosmetic work, at a minimum. Peeling wallpaper from the '70s doesn't photograph well and isn't easy to cover with a chic grey paint, so sellers may opt to exclude interior photos altogether and hope to intrigue an audience with vision," Boston realtor Kate Ziegler says.
What will my commute be like?
Everything about the listing may look stellar, but where will you park your car if there isn't a driveway? Is there ample parking on the street? Prefer to walk, ride a bike or use public transit for your commute? Look for a walkability or transit score, but keep in mind nothing replaces the vibe you get when you're there in real life.
"Transit scores also might not take train schedules or bike lane maintenance into account. Check these things in person to be sure they work for you, as well as for the walkability algorithm," Ziegler says.
What about the neighbors?
A listing won't tell you about the neighbors next door, nor will it tell you about the commercial neighbors nearby. Su Miao, real estate agent at REAL in New York City, says to find out if there are institutional neighbors nearby. Your dream home could be down the street from a fire station, hospital or manufacturing plant.
"Think about how the noise pollution and foot traffic will impact your day to day life," Miao says.
How many days has the house been on the market?
Don't forget to look for these details because it could be useful for negotiating the price.
"If a property seems well-priced, but has sat on the market for a long time, that's something to look at," says real estate agent Rafael Feldman, of Warburg Realty in New York City.
"There are many reasons why it might not be selling including an unmotivated seller, off-season listing, or something not visible in the pictures. It could have major layout issues or an utter lack of sunlight," Feldman says.
Dig a little deeper in the listing and you may discover major components like an outdated HVAC or an old roof that needs to be replaced.
Are there HOA fees?
The photos and description fit the bill so far but before you make an appointment to see it, check to see if your dream house is in a Home Owner's Association (HOA). HOA dues can be expensive in some areas and you must pay them in addition to a monthly house payment. You'll also want to confirm whether the dues include any special assessments that are ongoing.
"Depending on the specific association and the amenities covered by HOA fees, the additional monthly cost can limit your overall budget," Ziegler says.
How much square footage does the home have?
With clever staging and wide-angle lenses, a home can appear much larger than it actually is. Feldman says to be suspicious of fisheye lens photos that looked stretched or warped, as well as amateur virtual staging, where the furniture is not to scale. To get a real sense of square footage, go to some open houses so you can compare listing photos to actual square footage.
What are the property taxes?
Okay, so the house hits all your "must-haves." But before you tap "save," did you see the property taxes in the listing?
"This can make a huge impact on your monthly housing expenses," Miao says. For example, if property taxes are $7,200 per year, that's an additional $600 a month.
Are there any pending fees? 
Sometimes a condo or co-op will need to replace the roof or an elevator, and that expense usually isn't a part of the regular HOA dues. Any pending assessment fees fall on the property owner, and that could mean "budget buster."
"These are really important, and they are not usually openly advertised," says Miao.
Bonus hot tip:
Don't be too quick to write off the listings with poorly-executed photos and marketing. Ziegler says it might actually be a good fit for you:
"Photos that don't translate well to digital media can result in less interest, less competition and an opportunity for buyers to negotiate a better deal."
---