Why You Should Find your Next Home on Foot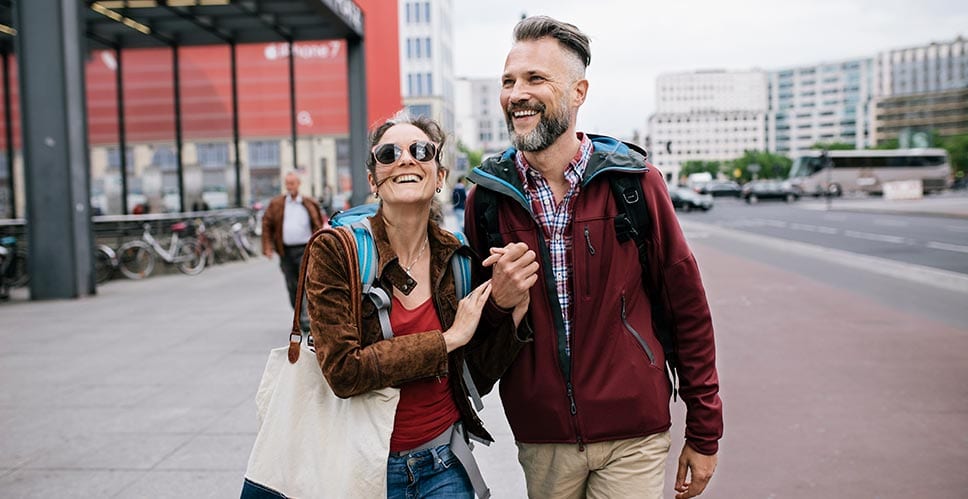 Moving to a walkable locale provides a unique home shopping opportunity! Park your car for the day and take in your prospective new neighborhood on foot. It's a great way to get a sense of the culture, community, and camaraderie up close, and determine if it's the perfect fit for you.
When we were planning a move from the Midwest to Baltimore, we decided not to rent a car for our three-day house hunt. Instead, we chose to walk from our hotel to all the house showings. We weren't planning on using our car much once we moved there anyway, so walking to all the showings seemed like a natural way to experience the subtle and not-so-subtle nuances of the area.
Here's what we learned: some helpful hints and "how-tos" to help you plan your own walking tour.
Map Your Route…
We found two to three showings were sufficient for the day, allowing time for walking to each house, stopping to eat, and exploring the neighborhood along the way. We studied the neighborhood on our laptop, using Google Maps to plan the order of the showings so we could be more time efficient. Google Maps app was ideal also ideal for providing directions once we began our trek.
…But it's OK to Get Lost, Too
It's probable (ok, ok-very possible) that at some point, you'll walk down the wrong street. Don't sweat it. Sure, you need to be vigilant of your personal safety and aware of the surroundings but it's OK to get a little sidetracked. You might discover some hidden gems like a quaint cafe, a quiet park setting or even your new house! We actually found some rowhouses for rent that we weren't on our list because we got sidetracked.
Timing is Everything
Your prospective new neighborhood may have a different vibe depending on the day of the week or time of day. For instance, we had most of our house showing appointments in the morning and early afternoon. We saw dog walkers, joggers and people walking to work in the morning: a sign that people felt safe and comfortable to walk. At night, the quaint, historic district was a bit more lively, as it was a favorite tourist stop. And on the weekend, that vibe was drastically different, with live music sweeping out of bars and droves of bar hoppers on the street. It was energetic and fun, but did we want to be in the middle of this action every weekend?
Who Are the People in Your Neighborhood?
To paraphrase the classic Sesame Street song, find out who the people in your neighborhood are. Realtors and apartment managers can't disclose certain details about a neighborhood due to the Fair Housing Act, which was enacted to eliminate housing discrimination. That's a good thing, but if a neighborhood is trending toward retired folks and you were hoping to live near other young families so you could connect with other parents and set up playdates, you'll have to find out on your own by walking the neighborhood and conducting your own online research.
Here's Your Assignment:
Walking the streets won't yield the results you're looking for unless you know some of the hidden signs of a good neighborhood. Here's some questions and tips to get you walking in the right direction:
Sit on a bench and people watch. How are the people interacting with each other? Are they walking dogs? Riding bikes? Does anyone say "hello" to you?
Ask a fellow walker about the neighborhood. Most people who are proud of their neighborhood are happy to tell you about it.
Visit local shops and restaurants. Are they clean and friendly, or poorly managed and run down?
Buy the local paper and pick up the free ones. You'll get a sense of the community and upcoming events.
Are the houses in good shape? Do people take care of their lawns and/or front stoops?
Make a note of the parking. Even though you plan to live as car-free as possible, shopping trips to Costco or Ikea on the weekend are a huge hassle when you have to circle the block for 20 minutes to find a parking spot, only to double park to unload your jumbo packs of toilet paper and Stockholm TV unit.
Are there clean parks, community centers, and places of worship? These are all signs of a strong community.
---
Everything for your move, all in one place
Curate your personalized moving checklist, set up TV & Internet, and more with a free MYMOVE account.
Save on your move and tackle upcoming to-dos with your free MYMOVE account.