Condo vs. Townhouse: What's the Difference?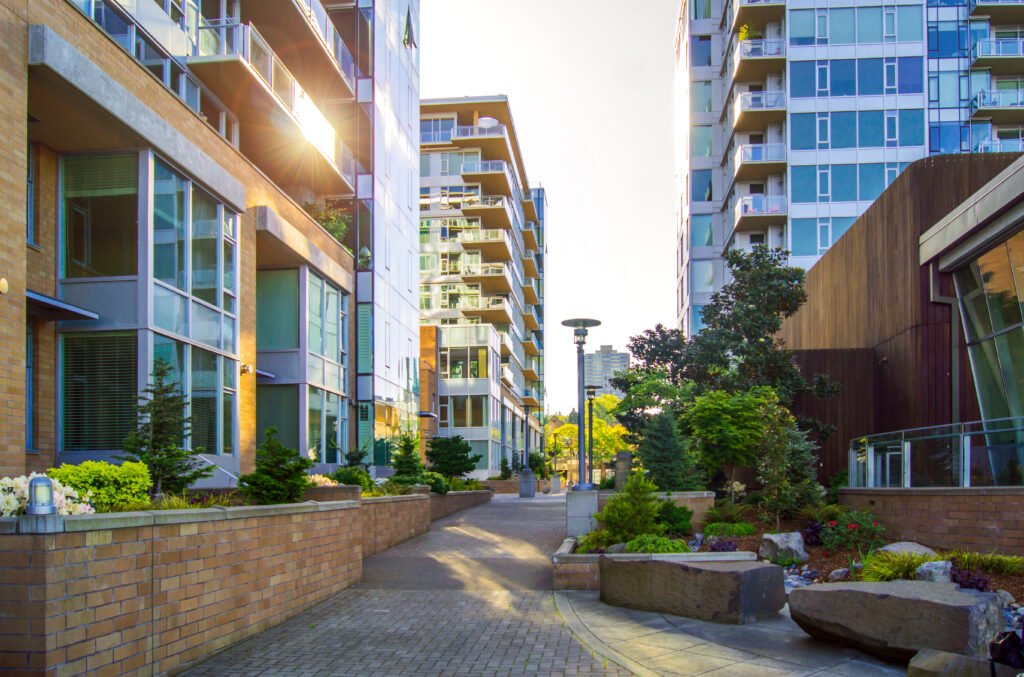 If you're considering a condo vs. a townhouse, it's helpful to understand the key differences. A condo, or condominium, is a large structure, typically set up by a real estate developer that divides the property into smaller units and sells them. As "condos" tend to have a lot of units in one large building, they sometimes have increased amenities, such as a pool, a library, or a gym.
On the other hand, townhouses are conjoined units that are each owned by individual tenants. Like row houses, the owners often share one or more walls.
Both are owned by their residents and can be found in all types of communities — rural, urban, and suburban alike. The biggest difference between a condo vs. a townhouse comes down to ownership and fees — and this ends up being a key factor when making a decision about which one is right for you.
A deeper look at condos
Who owns it?
When you purchase a condo, you personally own the interior of the unit, but you don't own the property on which it sits. The exterior, lawns, and shared spaces are maintained by the Homeowners Association (HOA).
Do condos have an HOA?
An HOA manages a condo and any rules impacting tenants. Since condos have shared space and amenities, their HOA fees can be more expensive than those for townhouses.
What's the cost of ownership for a condo?
The mortgage interest rates for buying a condo also usually run higher than the rates for buying a townhouse; making a down payment of 25%, rather than 20%, can help mitigate this, but it's a high upfront cost. They do also tend to have higher monthly HOA fees as well — so this does need to be taken into account.
How does insurance work with a condo?
In general, HOA coverage will only cover the exterior of your condo, so you need to ensure you take out special condo insurance that covers your interior, personal possessions, and liability.
How do property taxes work with a condo?
As with a traditional house, every condo owner's property tax is different. The tax is based on the value of the condo itself, and it can vary greatly depending on location and property value.
What's the resale value of a condo?
The resale value of a condo will depend on a number of market factors, many of which are out of your control. But when it comes to factors you can control, there are some benefits to owning a condo. A well-run HOA ensures that common areas and the exterior of your building are well-maintained and looking their best, giving a great impression to prospective buyers. Many condos come with added amenities, such as a gym, pool, and maintained gardens — attractive features for buyers. The downside of condos is that they tend to have a slower appreciation value in comparison to townhouses. The latter is more suitable for families, so there is a larger market.
Condos: Pros and cons
Pros
Can be more affordable than other real estate
Often come with extra amenities
Often includes security
Typically located in denser areas, making them walkable to shops, restaurants, and more
Cons
High HOA fees
More restrictive HOA rules
Tend to be smaller than townhouses
May not be very private
A deeper look at townhomes
Who owns it?
Residents own their interior and exterior walls, lawns, and roof of their townhome. They are often rows of uniform homes — two stories, or taller. Unlike condos, you actually own the land your townhome is built upon.
Do townhomes have an HOA?
Not all townhomes have HOA fees. If the townhome complex has communal areas that are managed by an HOA, then there will be fees associated. However, the cost depends on the necessary level of management.
What's the cost of ownership for a townhome?
As with all real estate, the cost of ownership will be determined by the townhome's location. They will vary in price, but the one thing to remember is that, in comparison to a condo, your monthly HOA fees will likely be considerably lower, due to having fewer shared amenities. The downside, though, is that if anything does go wrong with the exterior of your property, you are responsible for the cost to have it fixed and maintained.
How does insurance work with a townhome?
In a townhome, you, as the owner, will typically be responsible for insuring both the interior and exterior of the property because you own all of it. You'll need to ensure your property, possessions, and personal liability are properly insured.
How do property taxes work with a townhome?
Both condo owners and townhome owners must pay property tax but, as with all properties, this will vary depending on the size, location, and value of the property.
What's the resale value of a townhome?
Townhomes are more suitable for families and therefore tend to have a better resale value. Furthermore, reduced HOA fees also make these attractive to buyers.
Townhomes: Pros and cons
Pros
Feels more like a traditional home
You have your own exterior space
More privacy than a condo
Minimal HOA regulations and fees
Cons
You are responsible for interior and exterior maintenance and upkeep
Smaller yard than a free-standing home
Fewer shared amenities than in condos
Condos vs. Townhomes: Which one is right for me?
In the big townhomes vs. condos debate, condos are ideal for buyers who don't mind living with other residents on the floors above, below, and beside them. Condos are also a smart buy for anyone who values having all of their living space on one floor — this could be an older buyer with limited mobility or someone who likes the ease of cleaning on just one level. Due to the nature of condos, they tend to be in the hustle and bustle of towns and cities, meaning you are closer to shops, restaurants, and bars. Furthermore, they often have additional amenities within the complex, such as a pool, gym, and library, and your HOA fees cover the maintenance costs for these areas. Condos are great if you want a stress-free place to live — maintenance, repairs, and security are normally all taken care of.
If you want a single-family home or a community property without the commitment of owning a free-standing home, then a townhome is a nice middle ground because you get the single-family perks along with the benefits of a community. A townhouse is best for homebuyers looking for more space than a condo, whether you want multiple floors or private outdoor space. You will have more maintenance than a condo, so make sure you understand your responsibilities and costs associated with them before you buy.
Frequently Asked Questions
Is it worth buying a townhouse?
If you want the feel of a traditional home, but the security and community feel of a condo, then a townhouse is perfect for you. The resale value tends to be higher than a condo, so your investment will most likely be safer. But don't forget you will have increased responsibility for the upkeep of your exterior areas.
Is a condo a good investment?
The high HOA fees of a condo can deter buyers from purchasing and limit the amount of value appreciation for these dwellings. However, the HOA fees do tend to be lower than if you had to maintain and repair the area yourself. The nature of condos means they tend to be in lively areas of towns and cities, and this will give your property resale appeal.
What has better resale value, a condo, or a townhouse?
As with all properties, the resale value depends on a mixture of conditions such as the location, size, and style of the real estate. In general, condos have a slightly lower appreciation value due to their high HOA fees and other factors, but they do tend to be in more central locations, which is a big plus when selling. The biggest tip is to do your research into what works best for you.
---