The Advantages of Using a Local Home Insurance Agent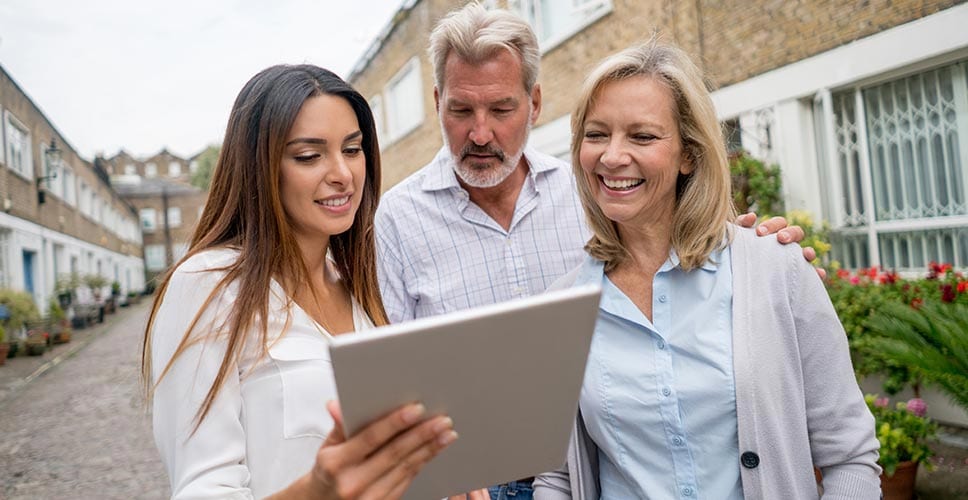 First-time homeowners understandably get caught up in the excitement of buying their own place. So much so that there's one little detail they may overlook as the time approaches to finally close on the deal. That detail is home insurance.
Before a lender hands over the money (and the mountain of paperwork) that allows you to buy a place to call your own, they're going to ask a simple question: Where's your home insurance policy?
Yep — the lender is going to want to protect its investment in you by requiring you to insure your home against some common problems. But not before you tackle the problem at hand — coming up with a policy before your closing appointment.
Getting started with home insurance
There are lots of ways you could go about purchasing home insurance. Your lender may have a suggestion. Your real estate agent could have one as well. Those suggestions could be fine, but they also might have someone else's best interests in mind instead of yours.
What about one of those companies that run the funny commercials on television? Wouldn't that make a good choice? Step back a minute: Do you really want to base a decision to protect what's likely the largest investment you'll ever make on the clever remarks of a lizard or an enthusiastic woman in a white uniform? Please say no.
There's a much-better alternative — someone who works and lives nearby, knows the community, and can be accountable not just when you deliver him or her the money to buy the premium, but when a crisis strikes and you need help.
Why a local home insurance agent is best
Insurance can be complicated. In a nutshell, your home insurance premiums will be based on the risks associated with the home.
That knowledge is valuable, says Shannon Bowes, vice president of homeowners insurance at Allstate.
"They have strong foundations in their communities, and are able to assess individual risks and anticipate changes over time, all based on their rich history of the area," Bowes says. "They can uncover coverage gaps you may not be aware of that are specific to your neighborhood or city. For example, they might know that a particular area has seen a surge in home renovations, causing the value of the homes to differ drastically within the same neighborhood."
Travis Biggert, chief sales officer at HUB International Mid-America in Tulsa, Okla., echoed Bowes' comments.
"Local agents understand local issues that can arise," he says. "For example, a local agent in Oklahoma, which is prone to high winds and tornados, understands how important it is to properly explain and cover wind and hail losses, where an agent in California has a whole other set of localized issues to address."
Some issues are local, and Biggert says that knowledge can be invaluable:
"A local agent may even know issues relating to certain areas of town. For example, some neighborhoods have a reputation for water pipes backing up or flooding issues, and a local agent will often be aware of those problems and be able to help you customize a policy to deal with those specific, localized risks."
Community is big, according to two agents. Bill Turbeville, president of South Carolina-based Turbeville Insurance Agency, stresses it.
"For starters, local insurance agents are members of your community meaning they understand the regional weather patterns and concerns homeowners will face with their properties," Turbeville says.
Jayson Greene of Carolina Insurance Professionals in Raleigh, N.C., concurs:
"Local agents have insider knowledge of your home's location and community, giving them an edge over big-name companies that may be located states away. Local agents that work and live in the same area you do provide distinctly personalized service to homeowners shopping for insurance."
You might expect local agents to say all that, of course. But customers also find benefits.
Brian Davis is a co-founder at SparkRental.com and a real estate investor with 15 rental properties.
"I've been using the same local insurance agent for over 12 years," Davis says. "He handles all of my rental properties, my primary residence — even my wife's engagement ring."
He touts the relationship with his local agent.
"My agent knows me, knows my needs and preferences, and all it takes is a 90-second phone call with him to set up a new policy," he says. "If my premium is late, he calls me, and doesn't let the coverage lapse while I get payment to him. He even calls me if a less expensive policy becomes available."
But isn't applying for an online policy easier?
Maybe, especially if you don't — like many millennials — like actually talking to people. But, as is true in many cases, easier quite often doesn't mean better.
Brent Thurman, owner of Keystone Insurance in Provo, Utah, put the online sellers to the test.
"Three years ago, my brothers and I wanted to test the user experience of an online insurance shopper, so we checked the usual suspects that we all see on TV and found something interesting," Thurman says. "There's very little education on what they're actually selling, and virtually no interaction to ask questions along the way. The websites basically asked us if we wanted 'good', 'better', or 'best' coverage … but what does that mean?"
It gets even more confusing, he says:
"Similarly, some online insurance companies will let you select your price with a slider that will either increase or decrease your coverage, but again, how is a customer supposed to know exactly what's being removed and whether they want it or not? There is an attempt to commoditize insurance, which is always great for the customer's pocketbook at the time of purchase. But the following year, when there's a claim to be filed, we're suddenly rethinking the importance of knowing what we've purchased."
The claims claims, and why they matter
The ability to interact on claims shouldn't be underplayed.
Biggert says it's vital:
"It's always good to have someone that you can meet in person for these things so you can get a 'gut check' on them, as buying the right insurance is really, really important when you have a claim. If and when it hits the fan, it's good to be able to go to an office and discuss the claim if necessary and have a local advocate on your side."
Greene has a similar take:
"Would you rather deal with someone who just knows you as your insurance ID number, or would you rather work with an independent agent who understands your specific needs and can walk you through the process to find the best solution for them?"
More from the insurance experts
MYMOVE got more opinions from other agents across the country. Here's what they had to say, although comments have been edited for clarity and brevity:
Joshua Butts
What are the benefits of using a local insurance agent?
By using a local agent you get several value adds that you will not get by buying direct.
First, you are not alone. Go with an agent who has hundreds if not thousands of policies with a carrier. If a problem arises in a claim, underwriting or billing issue, that carrier will want to keep the top agent happy because they own the rights to huge premiums generated for the carrier.
Second, you are investing in a local business. Purchasing a policy from a local agent does not cost more and many times is less because they have more options available. Local agents donate their time and resources to better their communities, and when a catastrophe strikes they will be there to see their clients are taken care of.
Last, you will have an adviser. Did a pipe break over the weekend and you wonder what to do or if coverage exists? Do you need a local water extraction company that will not take advantage of you? You may have other life events like getting married or a kid going away to school that your local agent can review with you.
What are some specific things you should take your insurance agent's advice on?
Coverage. Find a trusted agent with good online reviews or as a referral from someone you know. Find an agent that asks you what is important to you, explains the coverage and discusses the pros and cons of electing or rejecting certain endorsements.
What decisions are best left to your insurance agent?
None. Insurance coverage is a very personal decision and is affected by your place or stage of life, familial status, life experiences, and many other personal circumstances. Only you know what is best for you. Work with your agent to understand your needs and together you will make a good selection on what carrier, coverages, and options you choose.
Joshua Lavine
President, Capitol Benefits LLC
At the time of a potential claim, a local agent can guide you as to whether it will be covered and what to expect throughout the claim process. If you do not have a local agent and call an insurance company directly, it will show up as a claim on your record (for all insurance companies to see) even if nothing is ever paid out or if you don't follow through with it.
When seeking advice from a local agent, find one that is independent and represents many insurance carriers. There are many differences in home insurance policies. It's important that your agent takes the time to understand your needs and then matches them with the best company.
Steve Roy
Elliot Whittier Insurance Services LLC
Your home is likely your biggest asset. You will want to make sure that you have your home properly insured. This does not necessarily mean the cheapest insurance possible. Your local insurance agent will take the time to offer you options so that you can decide what is best for you.
Local insurance agents know the hazards facing your community. Whether your community is coastal, rural, urban, luxury, hurricane-prone and so forth, that agent will be invested in having the best insurance companies available for your locale.
Local insurance agents are invested in your community and care about the people. Many support local causes such as high school sports teams, Chambers of Commerce, and local charities.
Your local insurance agent will take the time to ask you questions that cannot be found on an online form in order to secure for you the best insurance company, with the best insurance coverage, at the best possible rate.

Ashlin Hadden

Voldico Ashlin Hadden Insurance

Being a local independent agent, it helps me provide my clients with the knowledge that we know the risks that they face on a daily basis because we LIVE right here with them. When there are catastrophic events, we are here for them because we live in their communities. I know where my clients live, work and play. I see their kids at football games and community events. We know when there is a life change and can help make recommendations to help protect their families, their assets and their business.

Denise Metz

There are a vast amount of insurance companies, most of which do business in multiple states and have different contracts for each state. For example, in California earthquake is excluded but hail is covered whereas in Texas it can be the opposite. Local agents have the knowledge of the contracts available in the area to ensure they are offering the proper protection needed.

A homeowner will want to heed a local insurance agent's advice on coverages needed. Just as insurance companies have different contracts by state, the contracts can also vary greatly within a state. A local agent will be able to help navigate through these differences and identify the bigger gaps in coverage/contracts for a homeowner.

When considering purchasing a home, a new homeowner should also ask if there have been any insurance losses as this may reveal potential concerns. For example, if there have been water losses, perhaps there is a potential plumbing issue. If there have been thefts, perhaps an alarm system may be needed.

Charles Martin

State Farm Sierra Madre, Calif.

Every community has very specific elements when it comes to how homes are built and how neighborhoods are structured, and how we ultimately insure them. I partner with mortgage brokers and realtors and my job is to make the buyer's life easier by confirming that their choices are good ones.

As your neighbor, I have probably insured a home on your new street or block.

I constantly meet in person with experienced local contractors to make sure that I am valuing your home appropriately so that your lender is not always asking for more coverage.

If you value strong financial relationships, having these types of conversations with an insurance call center is not going to be enough for you. Most insurance companies that sell online are not structured for continuous business relationships between their reps and customers.

John Espenschied

Insurance Brokers Group St Charles, Mo.

The largest benefit of using a local home insurance agent is they know the weather risk in your area. Every state and city has unique weather conditions that an agent 500 or 1,000 miles away wouldn't think about like sewer backup for folks with basements, earthquake and flood insurance. Some states have wind and hail deductible separate from the regular home policy. Having a local presence also helps homeowners have peace of mind if they just want to stop by the office and talk about their coverages.

John Wright

A local insurance agent knows the area and can advise on local services you may need for your house to lower your home insurance costs. If you have an old roof that needs replacing, your local insurance agent knows area roofers who will be able to complete the job for you. Or, if your basement floods, your insurance agent can recommend a local service provider to help you recover.

Joseph Deutsch

You need an agent that understands the local exposure such as if wind, flood, crime, theft, vandalism, quake, sinkholes are issues.

Raise the following questions and topics with your agent:

What does my policy cover? What doesn't it cover?

How do the deductibles compare?

Understand the difference between Replacement cost Value and Actual Cash Value.

Make sure you're getting adequate coverage (Basic Form, Broad Form, Special Form)

Which preventive actions can reduce premiums?

How does replacement coverage differ from the market value?

Why you should document all receipts? How is jewelry covered?

Why good maintenance matters?

How to save by combining policies?

When to file a claim?
---
Everything for your move, all in one place
Curate your personalized moving checklist, set up TV & Internet, and more with a free MYMOVE account.
Save on your move and tackle upcoming to-dos with your free MYMOVE account.