Fiber Optic Internet for Your Home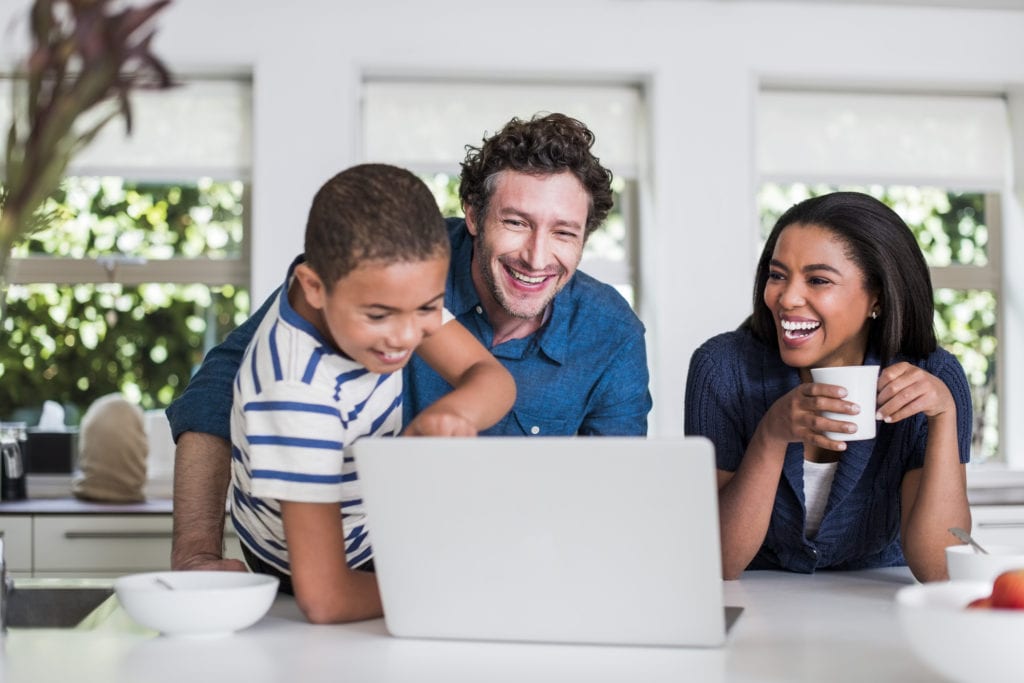 DigitalVision / Getty Images
Understanding fiber optic internet
Fiber optic is a newer form of internet connection. It uses cables made of thin plastic or glass fibers to transmit data via light signals. Fiber can support quicker speeds and improve reliability compared to more traditional connections, like cable, satellite, and DSL. When considering the price, fiber optic internet is one of the best options out there. But it's also one of the least accessible, with availability limited to select metropolitan areas and neighborhoods.
This new connection type has gained popularity with big internet service providers. Because customers need faster download and upload speeds, companies like AT&T, Verizon, Cox, and CenturyLink jumped on the fiber optic bandwagon to give customers what they need.
Fiber's use of light to transfer data makes it significantly faster than the standard copper wire connection used by cable. Fiber internet can reach download speeds up to 1 Gbps, with some providers like Verizon Fios nearly matching upload speeds. Fast speeds paired with relatively affordable pricing is quickly making fiber the gold standard for internet connectivity.
Types of fiber optic internet
When moving to a new location, choosing the type of Internet service that will fit your needs may be difficult. When fiber optic internet service is available, and within your budget, it can be a good option because of the fast download and upload speeds. It can handle transferring large amounts of data in a short period of time and can grow with your ever-changing internet needs.
Depending on the location of your new home base, you may have access to three different types of fiber connection: fiber to the neighborhood (FTTN), fiber to the curb (FTTC), or fiber to the home (FTTH).
1. Fiber to the neighborhood (FTTN)
These kinds of fiber optic connections utilize cables that transfer data to a central hub near the home. After that, a different kind of cable may carry it the remainder of the way. If the company uses a DSL or coaxial cable for the final length of transmission to the home, the total network is referred to as a "hybrid fiber-coaxial network," and internet companies commonly use these.
2. Fiber to the curb (FTTC)
Fiber to the curb brings the connection further than fiber to the neighborhood — it's brought just outside the home. That's why it's referred to as "to the curb." This type of connection brings increased bandwidth and consistent speeds, yet still commonly requires a DSL or coaxial cable for the rest of the journey into the home.
3. Fiber to the home (FTTH)
Fiber to the home brings fiber cables all the way to the house, making the network 100% fiber optic. This connection provides the best bandwidth, speeds, and consistency.
Fiber optic internet availability
Fiber optic internet is only available in select metropolitan areas and neighborhoods. The relatively slow adoption is due to the expense involved in the installation of fiber optic cables. Not only are the cables themselves costly, but the process of running them is both time-consuming and labor-intensive.
Another reason why fiber optic internet may expand slower than expected is the prevalence of other options. Usually, the target area already has DSL or cable internet connections available, which for many people, provide more than enough speed.
Fiber optic internet is spreading, however. Its quick, symmetrical upload and download speeds and its potential for supporting greater bandwidth in the future give it momentum.
Comparing fiber optic internet speeds to cable, satellite, and DSL
If you want to begin life in your new home with faster internet, fiber is a good choice. When people ask the question, "What is fiber optic internet?" they often wonder about how it stacks up against other types of service with regard to speed. To understand how fiber optic internet fares in comparison, here's a look at approximately how long it takes for each internet type to download a 45-minute TV episode:
*Information based on typical download speeds of each internet type. Speeds can vary by provider.
Top fiber optic internet providers in your area
*Prices as of 2/4/2020
The pros and cons of fiber internet
Pros of fiber internet
Security: Because there are no wavelengths involved in transmitting data via fiber optics, there's no way to listen to information coming in or out. Also, the hardware is kept in one area, so monitoring and maintenance are easier and straightforward.
Cost-effective over time: While installing fiber optic networks have more expensive costs upfront, the scalability options over the long-term can outweigh the initial investment.
Better connection quality: Fiber optic internet resists electromagnetic interference caused by radiation from an outside source. This type of disturbance can cause degraded performance on conventional cable connections but does not impact fiber.
Cons of fiber internet
Upfront costs: The initial costs of installing fiber internet slows down the growth of this type of connection, limiting availability.
Fiber Fuse: This is when too much light finds an imperfection in the fiber. Fiber fuse can damage long lengths of cable in a very short amount of time.
Physical Damage: Fiber optics are sensitive and fragile under certain circumstances. For example, bent fibers can compromise performance, making installation difficult.
Frequently asked questions:
Q:
What is fiber optic internet?
A:
Fiber optic internet is a kind of connection that moves information via fiber cables. The term 'fiber' describes thin glass wires protected inside a larger cable. The word 'optic' describes the way those cables transfer data. In this case, it's via light signals.
Q:
How much does fiber internet cost?
A:
Depending on the internet plan, fiber can cost anywhere between $29.99/mo and $79.99/mo. A few internet companies offer fiber, but it's not available in a lot of locations when compared to cable or DSL providers.
Q:
Is fiber optic right for me?
A:
Since fiber is a relatively new player in the internet connection game, there are things to ask if you're considering switching to this kind of service. If you're looking for a reliable network, fiber is generally more reliable than cable. If you need fast internet, fiber is a good fit because their speeds can range from 50 Mbps to 1,000 Mbps.
Q:
Does fiber internet need a specific kind of modem?
A:
Most likely, you will need a new modem for fiber internet because the traditional modems that come with cable and DSL connections are not compatible. Most fiber providers understand this and offer modem rentals or purchases with internet plans.
---
Bring on the savings
Unpack unbeatable deals
We can't sugarcoat it — moving can be expensive. That's why we team up with your favorite brands to help you save on everything you need (and want!) for your new home. The best part? You won't find these deals anywhere else.
VIEW YOUR DEALS