A Complete List of Streaming Deals, Early Movie Releases During COVID-19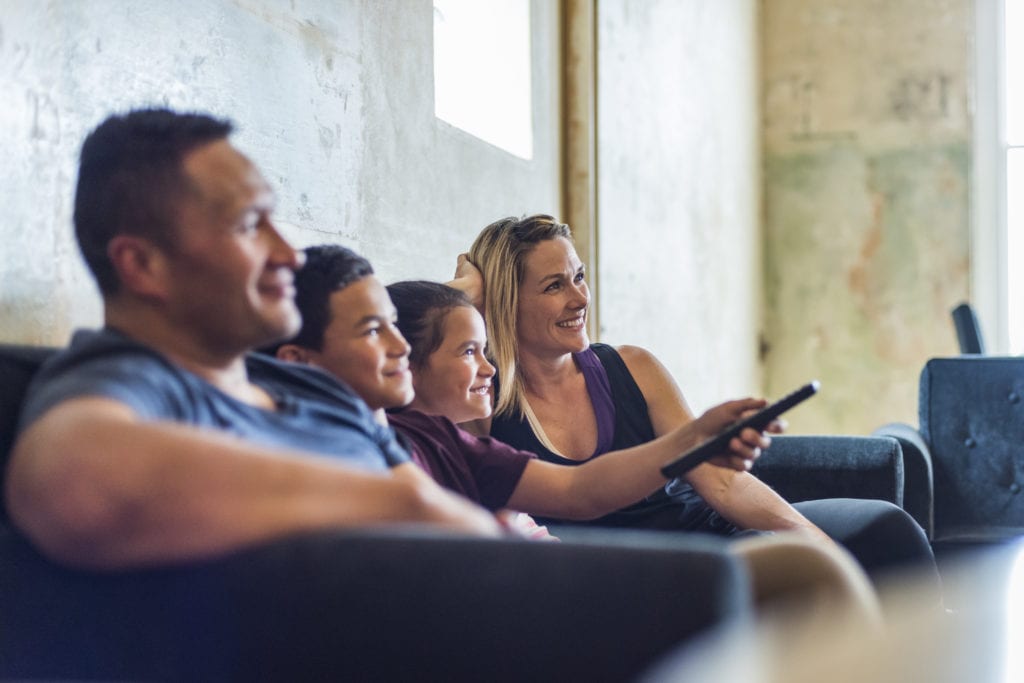 As COVID-19 sweeps through the U.S., the White House and the Centers for Disease Control and Prevention (CDC) are encouraging families to practice responsible "social distancing." That means limiting time in public and keeping away from large groups.
But as people stay home in an effort to stop the virus' spread, it raises the obvious question: How do we fight off the boredom and stir-craziness that can come with a quarantine?
Many of us are turning to TV. Nielsen reported a 6% increase in television viewing across the country, and a 13% increase in the use of streaming services. That number is sure to rise as time goes on, and we continue to wait out the pandemic. In fact, Google Trends shows that search interest in "streaming" has increased alongside "social distancing," reaching the highest interest that search term has seen in the past 12 months.
As we start to watch more TV and exhaust our entertainment options, we'll need to tap into platforms with new selections. That's where free-trials could help. Lots of streaming services offer no-cost trial periods for new and interested customers. Now could be the time to test that new streaming service you've been thinking about.
But a quick pro-tip: Set a reminder for when that free trial ends, just in case you want to cancel it. Who knows? You might end up loving it. 
Streaming services: Free trials and deals
Netflix: 30-day free trial, then it's $8.99 to $15.99/mo. Are you a T-Mobile customer? If so, you can enjoy free Netflix with your Magenta or Magenta Plus plan!
Hulu: 30-day free trial, then it's $5.99 to $11.99/mo. If you have a Sprint Unlimited Plan, you can enjoy free Hulu!
Amazon Prime Video: 30-day free trial, then it's $13/mo.
Showtime: 30-day free trial, then $10.99/mo.
AMC Networks streaming services, like Sundance Now, Acorn TV, and Shudder: Extending the free trial period to 30 days, then it's regular pricing.
Disney+: Seven-day free trial, then $6.99/mo. And if you have a Verizon Wireless Unlimited plan or 5G Home Internet, then you can get Disney+ free for a year!
Apple TV: Seven-day free trial, then $4.99/mo.
HBO Now: Seven-day free trial, then $14.99/mo.
DC Universe: Seven-day free trial, then $7.99/mo.
YouTube TV: Five-day free trial, then $49.99/mo.
With movie-watchers forced to stay home, theaters across the country are closing down their locations. Hollywood is taking a big hit, with box office numbers showing a 20-year low, according to TIME.
In an effort to try and get highly anticipated movies in front of anxious watchers, some movies are being released early on various video-on-demand platforms, including iTunes, Google Play, and Disney+. And on Sunday, Amazon launched a new Prime Video Cinema platform that allows users to buy or rent newly released in-theater movies at home.
So if you're anxiously anticipating that new movie, good news! You can enjoy it from the comfort of your own couch!
Early movie releases
Onward: Available for digital purchase now, with streaming on Disney+ on April 3
Emma: Available now
The Hunt: Available now
The Invisible Man: Available now
Star Wars: The Rise of Skywalker: Available now
Frozen II: Available now on Disney+
The Gentlemen: Available on March 24
Just Mercy: Available on March 24
Bloodshot: Available on March 24
Birds of Prey: Available on March 25
The Way Back: Available on March 24
I Still Believe: Available on March 27
Sonic the Hedgehog: Available on March 31
Trolls World Tour: Available on April 10
Frequently Asked Questions
Should I go to the movie theaters during the Coronavirus?
The CDC recommends people "avoid crowding" during the COVID-19 outbreak, and is asking people to stay out of large gatherings in public. Experts are also advising people to stay at home to stop the disease's spread. We recommend that you practice extreme caution during this time and follow these CDC best practices.
How do I prevent coronavirus disease at home?
Follow these CDC guidelines on how to prepare your home for the COVID-19 outbreak. You can start by limiting your family's time in public, deep cleaning frequently touched surfaces, washing your hands thoroughly with soap and water, and using a hand sanitizer that contains at least 60% alcohol.
How do I get wireless internet at home for streaming? 
You'll need a reliable internet connection to use the streaming services above. To get Wi-Fi at home, subscribe to an internet provider that offers service in your area. Then, you will need to set up your home Wi-Fi network with a modem and router that will connect your devices to the internet.
What internet speeds do I need to stream video?
You need a minimum of 3 Mbps to stream SD video. If you want to enjoy your movie in HD, you'll need a minimum download speed of 5 Mbps to 8 Mbps. Learn more about choosing the internet speeds you need with MYMOVE.